You can discover the Kiwi Valley, its natural and cultural heritage on foot or on bike with
13
hiking paths. More than 126 kilometers of marked routes cross the territory. These laps offer different levels of difficulty and different durations. They are marked in blue and have directional signs.
You can find all these routes in a guide (n°5) at the Tourist Office. (2€)
Our suggestions
The sportiest : Emperor circuit (circuit de l'Empereur)
This circuit leads you to the heights of Peyrehorade. 15 km long, it will take 5 hours (or 2 hours with a mountain bike) to finish the route. Our favorite spot : the view of the Gaves Réunis and the Pyrenees.
The most cultural : Heritage circuit (circuit du patrimoine)
Take the direction of the bastide of Hastingues for a walk mixing heritage and beautiful landscapes. Our favorite spot : the peace of the Abbey of Arthous.
And to the west ? : circuit between Adour and Saint-Etienne d'Orthe (
circuit entre Adour et Saint-Etienne d'Orthe)
Starting from Port-de-Lanne, this route leads you to Saint-Etienne d'Orthe, you follow the Adour river to Rasport. Our favorite spot : the barthes where we can observe a remarkable diversity. (fauna and flora)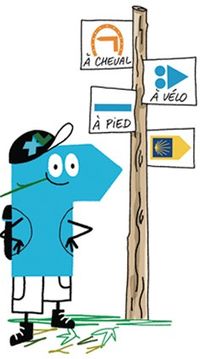 Others hikes in the territory
The website
rando.landes.fr
lists all the routes of the territory and the department. You can download these routes in GPX format for GPS.
Be careful ! Traffic on route no. 5. (Pouillon, circuit du château) is prohibited until March 31, 2023.
Before you do, a few things :
Quelques petits rappels :
Before your walk
- Leave well equipped with good shoes and clothing. Don't forget your bottle of water.
- Check the weather
During your walk
- Stay on the trails and respect the marking
- If you encounter difficulties on the route (marking, obstacle, nuisance), you can inform the Tourist Office.